What is Valet Trash Service?
Valet trash is a full-service trash collection amenity that removes and collects waste from the doorsteps of multi-family communities such as apartments and condominiums.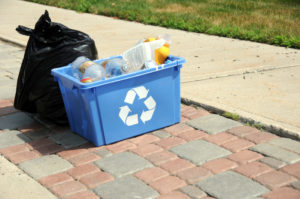 Having a valet trash pick-up service is luxurious, practical, and highly recommended. Putting trash outside your apartment and have it 'magically disappear' will prove extremely beneficial, especially if you live in a fast-moving city such as Houston. Besides, you don't have to worry about carrying heavy trash bags from your home to the dumpster on the other side of your apartment.
At Sunny Trash Hauling, we understand the hassle of trash disposal, and here are some of the benefits you will reap from letting us be part of your trash management:
1. Recycling Made Easier
You might have the best interests at heart to actively protect the environment, but the venture proves to be stressful and inconvenient. This is because you have to separate the different trash bags in your home and take them to their respective dumpsters, which is cumbersome.
By engaging a trash pick-up service, you will be provided with a recycle bin with the same easy-pick up concept, thus making recycling easy, convenient, and possible.
2. One More Thing Off Your Busy Schedule
You might be busy preoccupied with work, school, children, and other responsibilities making simple household tasks such as trash disposal burdensome. Valet trash services come in handy and take care of the issue by picking up the trash straight from your doorstep.
3. Sweet Simplicity
All you need is to place the trash bags in the containers provided outside and bring back the container when the pick-up period is over. You don't have to fuss with heavy bags full of trash down your stairs. Sounds easy, right?
Sunny Trash Hauling Service
We are firm believers in the convenience for both apartment managers and their tenants when it comes to efficient waste disposal. Feel free to talk to us or request a free quote and let us be your reliable partner in taking care of your trash.